Ted & Jo Mock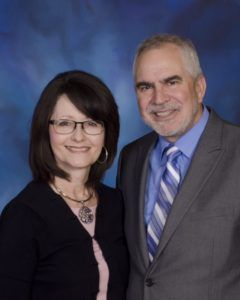 Jo and Ted met at Jo's father's church in Camden, Arkansas during their high school years.  They were married in 1976 and have two married children and five grandchildren.  Jo came to know Christ as a nine-year-old in Hot Springs, Arkansas; Ted was saved at the age of nine in Mobile, Alabama.  Ted attended Baptist Bible College in Springfield, Missouri while Jo went to Ouachita Baptist University in Arkadelphia, Arkansas.
Before moving to Tennessee in 2003 and representing Lighthouse Children's Homes full time, they had started and helped establish Fellowship Baptist Church in Bearden, Arkansas.  As their ministry opportunities have grown they founded Lighthouse Ministries in 2013, a ministry of Fellowship Baptist Church, to help center their ministry in a local church.  The couple has been for many years associated with the Lighthouse Homes founded by the Neffs, college classmates of Ted, and continue to represent the Homes and assist the Neffs with special projects for the seven foreign Homes.  Currently they reside in Powell, Tennessee, and travel representing the Homes as they minister in churches to families across America.
The Mocks travel extensively holding revivals focusing on families, mission conferences and workshops training children's workers and Sunday School teachers.  Summer months are filled with VBS meetings, youth camps and Kids Crusades.  Their goal is to reach children, restore families and raise up the next generation of teachers, all through the local New Testament church.
Contact the Mocks:
Email: tedmock253@gmail.com